---
Název Skyline GT-R se stal za dobu existence takto jmenovaného modelu velkým pojmem v oblasti motorismu. V poslední generaci sice oficiálně přišel o název Skyline ale někteří lidé mu tak stále říkají. V tomto článku se podíváme na předchůdce současné generace, která se jako první začala oficiálně prodávat i v ČR.
1. Generace 1969 - 1972
První genrace byla představena 4. února 1969. Jednalo se o čtyřdveřový sedan s klasickou koncepcí ( motor vpředu, poháněná zadní náprava) zkr. "FR". Byl poháněn motorem 2,0 l s rozvodem DOHC, který dával maximální výkon 120 kW při 7000 ot/min a maximální točivý moment 118 Nm. Měl pětistupňovou převdovku. Od března 1971 byl model nabízen ve verzi kupé. Jeho slangový název byl Hakosuka. Výroba první generace byla ukončena v roce 1972.
Celkem bylo vyrobeno 1945 vozidel.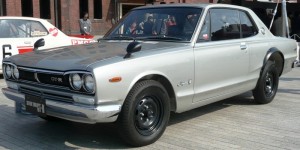 http://en.wikipedia.org/wiki/File:C10GT-R.jpg
2. Generace 1972 -1977
Druhá generace byla představena roku 1972 na Tokijském autosalonu a do prodeje byla uvedena v roce 1973. Byla poháněna stejným motorem jako první generace tzn. 2,0 l s rozvodem DOHC. Jako jeho předchůdce byl nabízen s karoserií kupé i sedan. Síla motoru byla přenášena na zadní kola přes 5 - stupňovou převodovku. Z důvodu ropné krize byla ale tato generace velice neúspěšná a vyrobelo se jenom 197 kusů. Tato verze GT-R je známá jako "Ken a Marry" díky reklamě, která na tento model běžela v medích.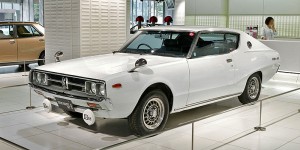 http://upload.wikimedia.org/wikipedia/commons/thumb/b/b3/Nissan_Skyline_C111_2000_GTX-E_001.jpg/800px-Nissan_Skyline_C111_2000_GTX-E_001.jpg
3. Generace 1989 - 1994
Zkratka GT-R byla oživena v modelové nabídce Nissanu v roce 1989. V tu dobu Nissan závodil ve skupině A. Z toho důvodu bylo vyvinuto šasi R32. To ve finálo bylo určeno pro závodění ve třídě do 4,5 l. Nissan se rozhodl použít motor o objemu 2,6l který byl přeplňovaný.(Přeplňování se počítalo jako 1,7x objem, aby se vozidla vyrovnala. Dále byl vyvinut pohon všech čtyř kol se systémem ATESA E-TS.
Model byl uveden do prodeje 22. 5. 1989. Požadavkem k homologizaci vozidla bylo vyrobit alespoň 500 kusů. Pohotovostní hmotnost vozidla byla 1430 kg. Motor o objemu 2,6 litru dával výkon 206 kW a točivý moment 361 Nm. Poháněny byly všechny čtyři kola.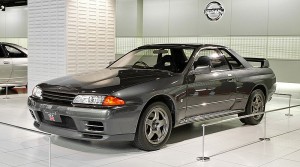 http://en.wikipedia.org/wiki/File:Nissan_Skyline_R32_GT-R_001.jpg
Dne 22. února 1990 byl uveden model Nissan Skyline GT-R Nismo (Nissan Motorsport).
V této specifikaci bylo vyrobenů 560 kusů. Účel této verze byla homologace aerodynamických modifikací pro závody skupiny A. Tyto modifikace se týkaly změny přednícho nárazníku, z důvodu lepšího proudění vzduchů k mezichladiči, pozměněnou aerodynamiku kapoty motrou pro lepší proudění vzduchu a pozměněný zadní spoiler pro větší přítlak.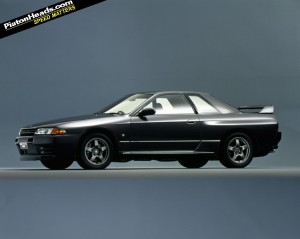 ttp://www.pistonheads.com/doc.asp?c=161&i=17688
Dne 19. 7. 1991 Nissan uvedl na trh verzi GT-R N1. Od ostatních typů se lišil absencí ABS, klimatizace, audiosoustavy, zadního stěrače, koberce v zavazadlovém prostoru. Dále bylo použito odlehčených předních světlometů. Celkově se podařilo ušetřit 40 kg. Pod kapotou se objevila větší turbodmychadla a motor byl ještě dále upraven. Celkově spatřilo světlo světa 228 kusů verze N1 a všechny jsou nalakovány barvou White Crystal.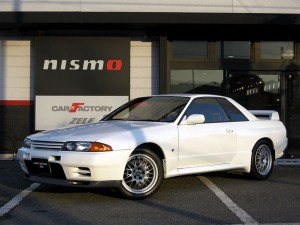 http://carphotos.cardomain.com/ride_images/3/2823/223/32055111230_large.jpg
Dne 3. 2. 1993 se objevila specifikace GT-R V-Spec.(Victory Specification). Sloužila jako oslava úspěchů v modelu GT-R v motorsportu v kategoriích A a N1.
Brzdy byly dodány společností Brembo a systém ATESA E-TS byl upraven. Kola byly použity od společnosti BBS o velikosti 17 palců. Celkem bylo vyrobeno 1453 vozů V-Spec.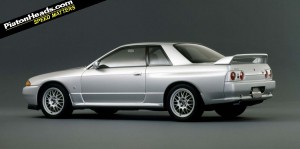 http://www.pistonheads.com/doc.asp?c=161&i=17688
Dne 14. 2. 1994 se objevila poslední reinkarnace modelu R32 a to GTR V-Spec II. Jedinou změnou oproti V-Spec I bylo použití pneumatik o větších rozměrech (245/45 R17). Této specifikace se vyrobilo 1303 kusů.
Pozn. V-Spec I a V-Spec II mají o 50 kg vyšší pohotovostní hmotnost než standartní GT-R.
Celkem bylo na základě šasi R32 vyrobeno 43, 930 vozů z toho 40, 390 kusů standardní specifikace.